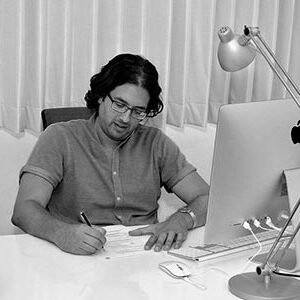 How many kids have you met who have been dreaming about working in Advertising since they were 13?
After I completed my military service, I started searching for what I should study. In the end, I registered for Business Administration and Communications at the Hebrew University.
Two months before I completed my degree, I was hired for a position as a Marketing Manager for the Jewelry Exchange chain. I learned what fieldwork and sales are and how to understand the customers' viewpoint.
From there, I moved to the agency side, as a Strategic Planner at Migzarim Group. There, I learned a lot about strategy and creative planning.
From there, an opportunity arose for me to shift to a new world that was then called "the interactive world." I switched to working at Grey, part of the Adler-Chomsky group, as the first Digital Strategist in Israel, and learned the fundamentals of interaction and digital media.
After gaining experience on the Client side and the offline and online Agency side, the time had come to switch to media: Establishing and managing the Digital Department of Channel 10 (today Channel 13).
I spend 3.5 years at Channel 10 and took part in the company management's strategy team for building the channel's vision for the years ahead.
Along the way, I had enough time to earn an MBA from Tel-Aviv University, to teach courses in digital marketing at several institutions – And fulfill 2 of my dreams: Taking part in establishing the first and only academic degree in Israel for Advertising and Marketing Communications (also at Ono Academic College), and judging distinguished marketing competitions, such as the Effie Awards Ceremony.
At the beginning of 2011, I made up my mind that the time had come to realize my dream altogether and to become a self-employed consultant. In Digital Marketing, of course.
Ever since, I have been enjoying accompanying major and medium-sized brands, as well as startups at advanced stages, in Israel and abroad, in the worlds of both strategy and digital marketing. At the end of 2016, I was chosen as one of the one hundred most influential digital professionals in Israel.
In 2017, I was appointed a member of the Board Committee of Matan (United Way Israel), and I also began teaching in MBA – at Ono Academic College.
In 2018, I began teaching Digital Marketing via social networks, as part of a master's degree in Education at Achva Academic College.
Today I proudly own Tsamir Digital Lighthouse – A Digital Consultancy firm.